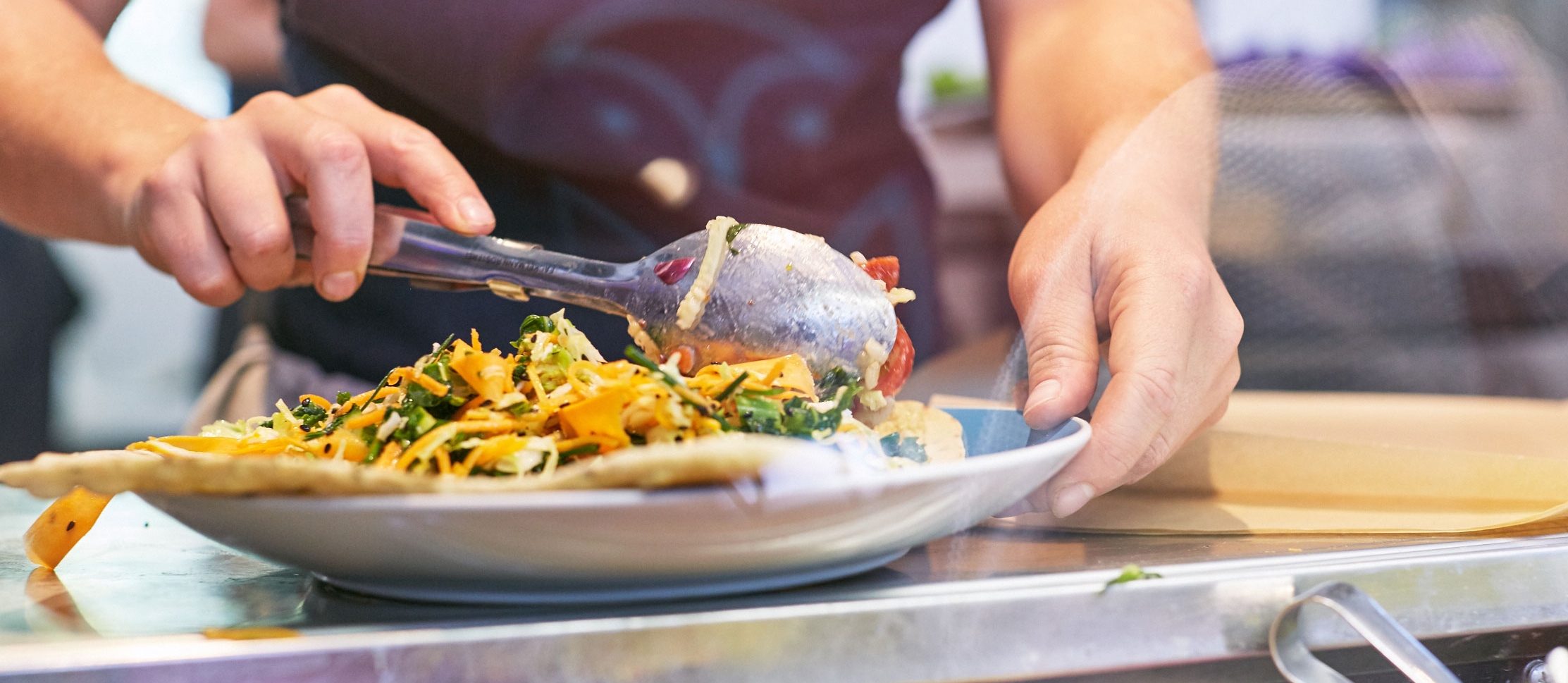 Tastes of the world. Home-made meals to go.
At Hibou Deli you'll find fresh and tasty home-made meals to go. All our food is prepared on-site daily and we pride ourselves in fresh healthy options, inspired by exciting world flavours. Check the menu for our lactose free, gluten free & vegan dishes.
HIBOU POTS
Main meals served hot or cold to takeaway. Recommended with a side of rice, potatoes or flatbread.
La Verte
Chicken with HIBOU's own green curry paste, coconut milk, bok choi, courgettes, spinach, edamames, green chilies, lime & ginger. Topped with coriander, spring onions, sesame seeds. Lactose free, gluten free, spicy.
Med: 10,90€ Large: 12,90€
 
Crispy Noodle Salad
Noodles tossed with fresh cucumber, daikon, pea shoots, red onion & bean sprouts. Topped with crispy noodles, cubes of baked tofu, mint, red chili, & black sesame seeds.
Soy, miso & black vinegar dressing.
(Served cold). Vegan, lactose free. 12,90€
Option to add – Hot crispy duck – +3,00€
 
Domoda
Beef slow cooked in a West African style peanut sauce, topped with roasted carrots, hot pepper sauce, toasted peanuts, fresh parsley and coriander.
Lactose free, gluten free, spicy.
Med: 11,90€ Large: 13,90€
Aubergine Passata
Roasted aubergine in a tomato sauce spiced with black cardamom, ginger & garlic.
Topped with roasted cauliflower, toasted almonds, fresh basil & natural yoghurt (optional).
Gluten free, vegan option, spicy.
Med: 10,90€ Large: 12,90€
Option to add – Slow roasted lamb – +3,00€
 
Sweet Potato Rendang
Chunks of sweet potato & courgettes ribbons, cooked in an Indonesian inspired coconut sauce – ginger, galangal, turmeric, lemongrass & kafir lime topped with roasted coconut sambal, coriander & spring onions.
Vegan, gluten free, lactose free, mildly spicy.
Med: 10,90€ Large: 12,90€
Option to add – Chicken – +3,00€
 
Toor Dal Sāmbhar
Channa & Toor Dal lentils slow cooked with a South Indian Sāmbhar spice mix.
Aubergine, green beans & carrots. Coriander & green chilli chutney.
Vegan, gluten free, lactose free, mildly spicy.
Med: 10,90€ Large: 12,90€
Halloumi – 4,00€
Rosemary polenta chips with dips – 5,00€
Roasted potatoes – 3,50€
Green vegetables – 3,50€
Flat bread – 2,00€
Rice – Small: 3,00€ Med: 3,50€ Large: 4,50€
PLAT DU JOUR
Each day we have a new plat du jour, recipes & tastes from around the world. Check our Facebook page for the daily Plat du Jour.
Our hand made flatbreads are filled with a main protein and a selection of delicious daily salads.
WRAPS
Lamb – Slow cooked, spiced, tender lamb – 10,50€
Chicken – Marinated in yogurt with lemon & rosemary – 9,50€
Halloumi – Marinated in lemon & za'atar – 9,50€
Tomato – with tapenade, buffalo mozzarella & basil – 9,00€
Aubergine – Chargrilled with za'atar & sumac – 8,50€
Beetroot – with lentils & whipped goat cheese – 8,50€
Salad – with your choice of salads – 8,00€
SALAD BOXES
Mix & match your flavours from the salads of the day – Small: 6,00€ Large: 9,50€
PROTEIN SALAD BOX
Add a protein to your salad box – choose from: lamb, chicken, halloumi, aubergine or beetroot, lentils & goat cheese – 12,00€
PASTRIES
Pies, pastilla & quiches
Ask for our daily selection – 3,50 - 5,50€
KIDS MENU
Kids noodle boxes
Egg noodles steamed with carrots, courgettes & edamames – 5,50€
+ chicken – 6,50€
Kids Chicken wrap
Homemade flat bread with tender pieces of chicken, green leaves, hummus & grated cheese – 6,50€
CAKES
We have a changing selection of cakes, ask for our daily selection – 2,00 - 3,50€
We often have vegan and gluten-free cakes. As well as a selection of chocolates and sweet treats.
DRINKS & COFFEE
We have a good selection of refreshing drinks, as well as beers, wine and prosecco.
We also make great coffee to go too.